Sparky's Story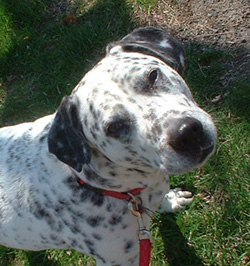 Despite her resemblance to a Dalmatian, Sparky actually was a pit bull/pointer mix, as well as a very lucky dog. Early in her life, Sparky narrowly escaped a death sentence at a New York City pound (the New York City Animal Care and Control Center – the NYCACC) thanks to the efforts of Adopt-A-Dog and the kindness of a kennel worker.

At NYCACC, the number of homeless animals can be overwhelming, and, unfortunately, some dogs are euthanized, although fewer now than when Sparky was there in 1999. At that time, in comparison to the number of animals destroyed, some within days of their arrival, very few were rescued. Luckily, Sparky's wagging tail and happy demeanor worked their magic on a kennel worker, who fell in love with Sparky and decided to hide her. He also secretly kept changing Sparky's arrival date to buy her more time, hoping she would be adopted or taken by a rescue agency.
Sparky was still in "hiding" when Adopt-A-Dog showed up one day.  After Adopt-A-Dog loaded its van with as many dogs and cats as could fit, the worker quietly approached the Adopt-A-Dog staffers and begged them to squeeze in just one more dog, his favorite – Sparky.  Adopt-A-Dog could not refuse such an anguished plea.  With little room in the van, Sparky had to put up with "standing-room only" but happily rewarded everyone with licks and kisses all the way home.  The staffers quickly understood why the kennel worker jeopardized his job to save Sparky's life.
From such humble beginnings, Sparky continues to do a world of good. The donations from the sales of her books have helped Adopt-A-Dog (as well as the NYCACC, Pet Rescue, Animal Haven, Pets Unlimited, the Berkeley-East Bay Humane Society and other animal agencies) take care of many other abandoned dogs and cats. And her books have entertained children and adults from coast to coast.
Sparky lived a wonderful life in Stamford, CT, with her adopted family, as well as with Speedy the tortoise, Maggie and Molly the bunnies, and a host of other animals. She passed away on Sept. 9, 2011, at the age of 13 due to cancer and kidney disease.
Dexter's Story
Just like Sparky, Dexter was saved by the efforts of Adopt-A-Dog, but while Sparky came from New York City, Dexter came from a much smaller town, Fayetteville, West Virginia, where he was rescued by Adopt-A-Dog from a dog pound and an uncertain fate.
We adopted Dexter, a pit bull/hound mix (we think he's part fox hound) on May 7, 2017, when he was two years old. The first two years of Dexter's life were probably tough. He ended up at the dog pound in Fayetteville after running loose on the streets for months. When we picked up Dexter from Adopt-A-Dog they told us he was afraid of men. Who knows what happened to gentle Dexter while he was a stray.
Fortunately, we were able to spend a lot of time with Dexter that first summer, and slowly but surely he got past his fears, and now he has grown to love his new neighborhood in Stamford, CT, and all his new friends (including Speedy the Tortoise) – and they love him, too!